Congressional Job Approval Dips Again This Month
The latest congressional job approval rating (24%) is the lowest for the institution since Democrats took control of both houses in January, and is far below the 37% registered in February.

The decline has been most evident among Democrats, whose ratings of Congress now match those of Republicans

. [

all emphasis mine

]
New Gallup data show confidence in Congress at all time low
Generally speaking, Americans have been skeptical about Congress for decades now. But the current 14% confidence rating for Congress is down from 19% last year and is the lowest in Gallup's history, surpassing the 18% confidence in Congress measured in 1991, 1993 and 1994.
Gallup
The percentage of Americans with a "great deal" or "quite a lot" of confidence in Congress is at 14%, the lowest in Gallup's history of this measure -- and the lowest of any of the 16 institutions tested in this year's Confidence in Institutions survey. It is also one of the lowest confidence ratings for any institution tested over the last three decades.
and that's not all ... how's the press doing? Not so good, or ... about as well as President Bush, but worse.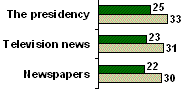 Previous:
How's that working out?